Collection Service
Hudson Management Services Would Be Proud to Serve as Your "Collection Partner"
Outstanding debt? Past due accounts?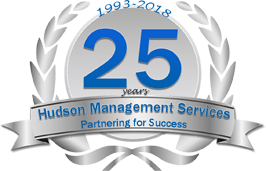 Delinquent payments cause cash flow problems for your business. An outsourced debt recovery specialist is a cost-effective, efficient alternative for recovering your outstanding debts. Managing collections as an in-house process is extremely difficult. Your staff seldom has the time – not to mention the training! – to apply the consistency required in the collection process.
Hudson Management Services has successfully partnered with our clients for over twenty-five years! Honesty & integrity are the solid foundation that has allowed us to build and maintain long-term relationships. HMS was founded on the business model of "Partnering for Success," the model we extended into the area of Collections with a staff that brings 25 years experience in collections.
Our debt recovery process provides reliable collection services to our clients.
You have options. Why outsource debt collection to US?
We are dedicated to increasing the rate of recovery for our clients in a professional and ethical manner. Preserving your good will and reputation is paramount for success – yours and ours.
HMS Collections Specialists are trained, equipped with the skills to understand the circumstances of your customers, including the sensitivity necessary to deal with each situation. Our established approach for debt collections ensures that the reputation of your brand is never negatively affected.
Debt Collection for Any Industry
HMS Collections provides collection services to a variety of industries including:
Service Industries (HVAC, Electricians, Pest Control, etc)
Medical/HealthCare Practices and Supplies
Education
Utilities
And others …
Our Services Include:
Data Validation and Customer Tracking – HMS Collections will use every available avenue to locate debtors whose contact information has changed.
Dispute Management & Resolution – Our debt collection specialists are carefully trained for dispute management and resolution to ensure that the integrity of your business is guarded and the credibility of your business remains intact.
Debt Negotiation – We will provide options in debt restructuring on your behalf. We can negotiate, with your approval, a fair solution to close the debt.
Benefits of Outsourcing Your Collection Efforts
Reduce Costs – Recovering funds that are delinquent is not a simple process. Outsourcing to a collection specialist like HMS Collections can save you the HR-related expenses of hiring, training, and monitoring additional staff.
Outsourcing the debt recovery process enables you to focus on your core business, to plan your business future instead of spending time on your business past.
Outsourcing provides a team 100% dedicated to getting past due accounts up-to-date, creating a shorter collections cycle, and improving overall cash flow.
Improved connection rate = improved collection rate. Our connection rate is higher because we are working during the evenings and on weekends. Improved collection rate = improved bottom line.
Our team of specialists is well versed in the best practices associated with collections; we have the experience and patience to handle situations that arise in a courteous and professional manner. Getting delinquent accounts resolved as quickly as possible is our focus.
Our dedicated team focusing solely on delinquent accounts eliminates the potential for some past-due payments to fall through the cracks.
Outsourcing collections frees your staff to perform other tasks to improve your service and customer satisfaction.
HMS Collections has streamlined this time-consuming process. Our team of collection specialist can efficiently collect payments and follow-up with debtors to facilitate fast recovery.
HMS Collections – Bonded and Insured
We:
Adhere to Fair Debt Collections Practices Act
Follow HIPAA Privacy Regulations
We offer:
Competitive Fee Schedule
No Collection/No Fees
Transparency

As an A+ BBB Accredited Business HMS is dedicated to ethically building trust with our customers. We are committed to uphold and constantly raise our Standards of Trust.