While running a dental practice, you need to deliver more than high-quality dentistry solutions. To ensure your dentist's office's success and growth you also need to pay attention to its business management. 
If you don't market your services, don't pay your staff on time, or don't maintain your facility to the highest standards, it can take a toll on the state of your operations. But to achieve these goals consistently, you also need a constant flow of revenue. When you face issues in recovering your unpaid invoices from the patients you serve, you become unable to fund your core services through empty bank accounts. To help you recover your accounts receivable (AR) on time, here are five ways to improve debt collection for your dental practice. 
Steps on Improving Debt Collection for Your Dental Office
1. Be Transparent About Treatment Costs and Plans
When you are trying to increase the number of patients your dentistry serves, you might be tempted to welcome as many clients as possible. But to make sure that those clients pay for the treatments they receive, you need to show them all of the associated costs from the get-go. 
By maintaining this transparency and avoiding hidden charges, you can enroll only those patients who know about the expenses they are taking on and how they can cover them. From discussing insurance options to presenting treatment plans, you can also outline different ways for your clients to pay for their dental work. 
This not only reduces arguments at the time of delivering your invoices but also lowers the number of unpaid accounts receivable in the future. In turn, doing this due diligence can go a long way.
If you are looking for help with collection calls, dental billing, credit reporting, and more, reach out to the medical collection specialists at HMS Collections for customized collection services.
2. Understand Insurance Coverage in Detail
When your clients are ready to take on treatment along with all its charges, you may want to get started on associated procedures right away. However, when your patients are relying heavily on insurance to pay for their treatment, it is important to take a step back and determine if insurance may pay for those services.
Looking into insurance coverage for different procedures can avoid extensive review processes and drawn-out payment timelines. This also saves you from performing procedures for those patients who are expecting their insurance company to cover the costs despite having no associated coverage.
When you pay attention to these minute yet necessary details, it helps you avoid unnecessary issues and roadblocks while clearing your payments. In turn, you can reduce the frequency and duration of your AR. While the approach takes some additional time, it pays off in the long run. 
3. Don't Be Afraid to Ask for Upfront Payments 
Not asking for upfront payments is a basic yet significant mistake that many dental offices make. By asking for payments before the procedure, you can cut down the entire process of having to wait for your accounts receivable to settle. This holds for patients who are paying for their procedures out of pocket. 
In addition to asking patients if they will make payments before their treatment, you can also inquire them to settle the invoice right after their procedure has been performed. Similar to clients who have no qualms about paying upfront, some patients prefer to settle their bills before walking out of the dentist's office. This responsibility can be carried out by various staff in your dental practice. This approach can significantly boost your ability to recover your AR. 
4. Deliver Careful Reminders to Recover Payments 
No matter the duration that you outline on your invoices, you should make it a point to remind your patients the day your payment becomes overdue. A simple phone call can act as an effective first line of contact between you and your patient for such a reminder in almost all instances. You can execute these calls once a week for 2-3 weeks. 
If your phone calls do not do the trick, you can move forward to sending emails to outline that the reminders are becoming more formal. Here, you can follow the practice of sending one email a week for three weeks. Make it a point to increase the urgency in your tone to recover your payment in every instance.
In case the phone calls or emails do not return any positive correspondence, you can start the practice of sending formal letters to the nonresponding patient's billing address. These letters can also highlight the legal repercussions that are associated with non-payments. If your client still does not budge, you can send the matter to collections. 
5. Hire a Specialized Collection Agency in St. Louis, MO
In many situations, your best efforts to recover your accounts receivable can fall flat for various reasons. Some patients may have limited to no means to settle their invoice, while others may be argumentative about the quality of your services. You need to remind your patients that they have a legal obligation to settle the payment in either case. 
That is where specialized collection services come into the picture. You can benefit from their expertise in closing difficult invoices by hiring these professionals. From locating hard-to-find clients to negotiating payment plans for those with limited funds, these specialists can perform various actions to increase your invoice recovery. 
The best part? By delegating these tasks, you and your staff can focus on your core operations instead of chasing after clients for payments. This ensures that your service quality for new patients does not drop due to negligence while also ensuring that you recover your unpaid invoices on time.
Contact HMS Collections for Effective Dental Solutions Today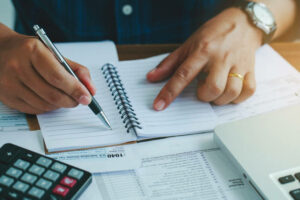 At HMS Collections, we understand the difficulties that managing a dental practice can bring to the table. Through our specialized services, personalized approach, and results-oriented solutions, our medical debt collection agency can support you in running a successful dentistry practice.
Our team abides by fair debt collection practices and state debt collection laws while assessing past due accounts. We seek to differ from other collection agencies in how we look at credit reporting, our connection to your patient relationships, and transparency.
We understand that debt collectors may not always have the best reputation, so we approach delinquent accounts and our collection strategies carefully. We aim to obtain relevant information, provide recovery services, approach collection calls differently, and serve the dental industry according to federal laws.
If you seek help to recover money at your dental office and need assistance with effective and streamlined dental billing, reach out to the right collection partner today. HMS Collections is here for you regarding non-payment, HIPAA compliance, and the latest technology.
To see how we can help, contact us for a commitment-free consultation today! We can understand your unique requirements and move forward with fulfilling them right away.